OUR STORY
Italy never stops surprising the world with elegance, good taste and a love for excellence. And this is where Giorgio was born in 1981. To this day, we are still passionate about what we do, how we create and what we bring to life by matching different materials that harmoniously come together. Perfection is our pursuit and yet many of our pieces are handmade and hence are rarely identical. Each one has distinct character. Inspiration and the thoughtful choice of precious ornaments are always our first steps in fashioning unique decorative products that only Italian flair can design and craft.
-Maher and Paula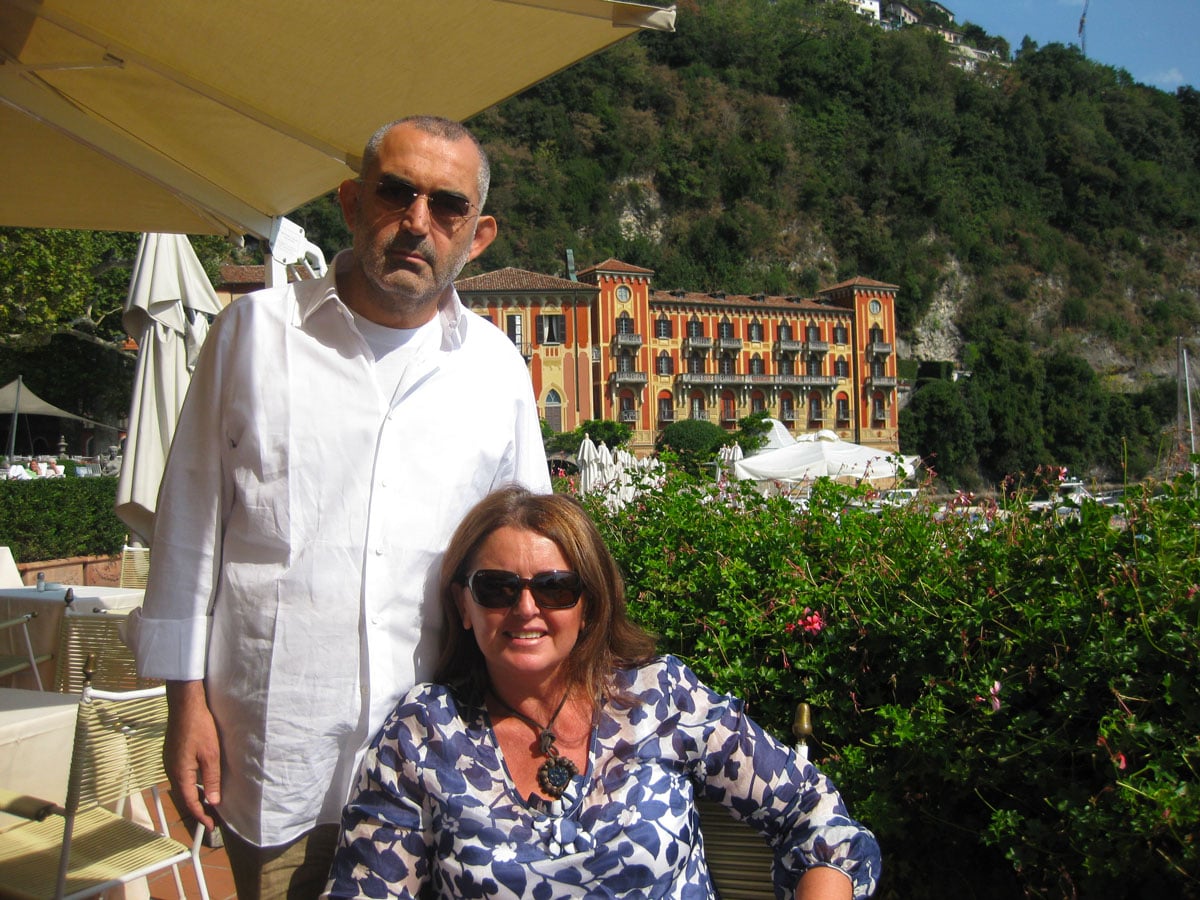 CONNECTING LUXURY
An exclusive Italian brand renowned for a complete range of limited edition first-class bathrooms, superior bathroom fixtures and high-end bathroom fur-niture, Giorgio offers more than beautiful handcrafted items made of premium materials. Giorgio creates a top notch experience based on a signature philo-sophy of "connecting luxury". At Giorgio we create everything you need, from eye-catching basins to elegant accessories, to transform your bathroom into a lavish space that mirrors the luxury of your splendid bedroom, magnificent home and opulent lifestyle.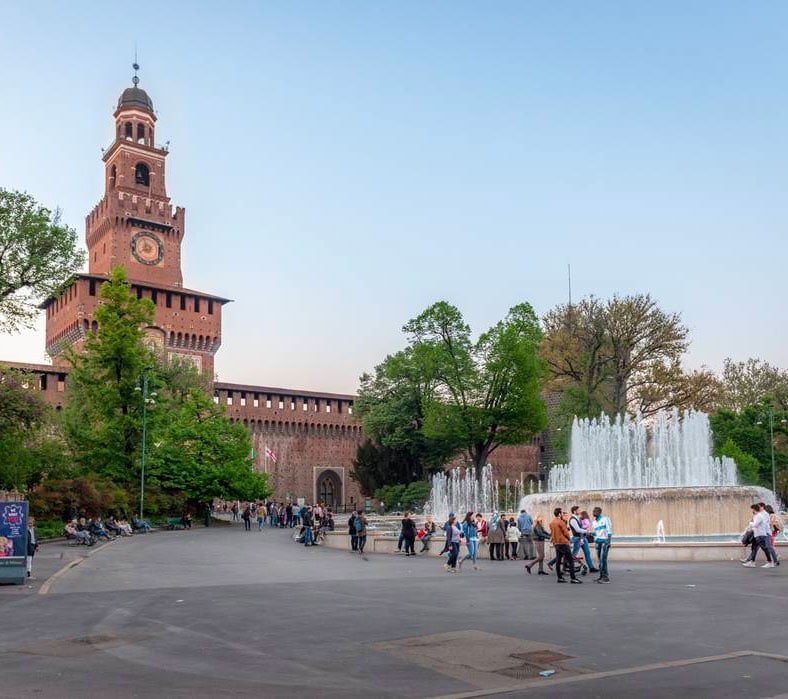 FINELY CRAFTED IN MILANO
Giorgio is artistically designed in Milano. Talented experienced artisans at our atelier in Milan make each item piece by piece with great attention to detail. Gifted young designers bring fresh elegance to life. Nothing is mass produced. Quality is never compromised. The refined finishing and premium materials from only the best sources come together in a perfect union. Giorgio brings Ita-lian style, design and craftsmanship to high-end bathrooms. Our elegant ba-throoms, bathroom fixtures and bathroom furniture are a statement of extreme luxury.
INSPIRED BY BEAUTY
Giorgio is simply beautiful. Beauty takes shape in each item. All the different styles, from baroque to modern, stand out in the exquisiteness of the chic de-corative touches, gold inlays, bejewelled detailing and delicate painting. Forms, shapes, lines, curves, edges, contours and colours magnify the allure. Giorgio bathrooms are subtle and timeless works of art.
COMMITTED TO EXCELLENCE
"At Giorgio we embrace the timeless and offer discerning clients a vast choice of styles that are exquisitely designed odes to history and modernity. Luxury is at the heart of every item we create. Luxury is also at the core of our customer service.
We believe that bathrooms, bathroom fixtures and bathroom furniture should be eye-catching, glamorous and welcoming. This is why we provide space solu-tions that complement opulent lifestyles. The skilled artisans at our atelier, our high quality material, refined finishing and unique designs are all key factors that make Giorgio the outstanding high-end brand that it is. We even personal-ly travel to all corners of Italy to source the best expertise and supplies. You can see and feel the essence of Milano, a city celebrated for its fashionable creativity and great manufacturing, in each piece.
Together we can bring beauty to space and to life."
-Maher Mehio
GIORGIO BRAND IN THE 80'S
Giorgio was born out of love, passion and innovation in 1981. The lives of Maher Mehio and Paola Pirone crossed paths and they embarked on this journey into beauty and lu-xury together. Bringing five generations of expertise to the forefront, Giorgio has evolved over the years, from the maker of remarkable basins to the creator of complete bathroom solutions including furniture.
Giorgio first appeared on the American market in 1981. Back then "Made in Italy" was the third best "brand" in the world. This solid link to Italy and Giorgio's exceptional quality and design made our products very famous and opened the door to vast distribution in the best showrooms from the East Coast to the West Coast.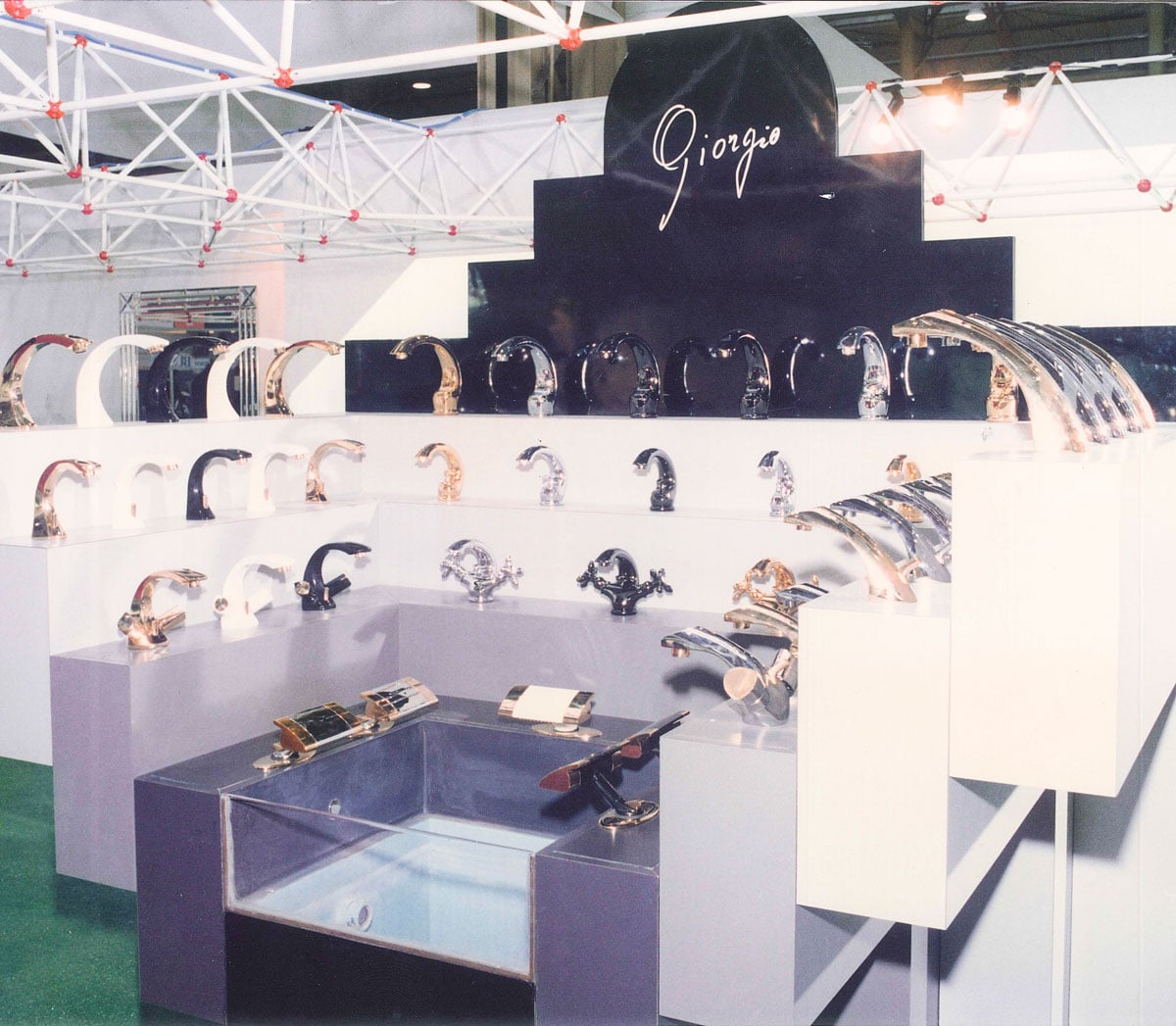 It wasn't long before Giorgio became a luxury brand that was always present at editions of KBIS USA. Giorgio transformed the bathroom from a simple room into a rich ambience for relaxation and well-being. After years of successfully decorating premium homes and luxury yachts in the US, Giorgio expanded to the Middle East and Far East, building on a loyal client-base already established in Japan and other countries. Today Giorgio embodies signature Italian craftsmanship, style and design. Each range in Giorgio's universe tells a story while always offering supreme quality for a prestigious life-style.

ONLY THE FINEST
Giorgio is a symphony of wood, lacquer, brass, gold, silver, precious stones, mar-ble, Murano glass, Limoge from France, crystal from Florence, pure porcelain, ceramics and metal. Long-lasting materials merge with distinct luxury. It's no wonder that Giorgio is renowned for gold bathrooms, silver washbasins and iconic looks that capture the essence of deluxe magnificence.
A COMPLETE SELECTION
Giorgio is your ultimate destination for luxury bathrooms. Each and every item in our vast and comprehensive selection has been carefully selected using our expertise. At Giorgio you will find everything you need to make your bathroom as luxurious as the rest of your home. When you live in style, your bathroom should "connect luxury" and be a space that evokes an experience.